【Joint Statement】 Indoor Aqua-PV Requires Environmental and Social Regulations Now!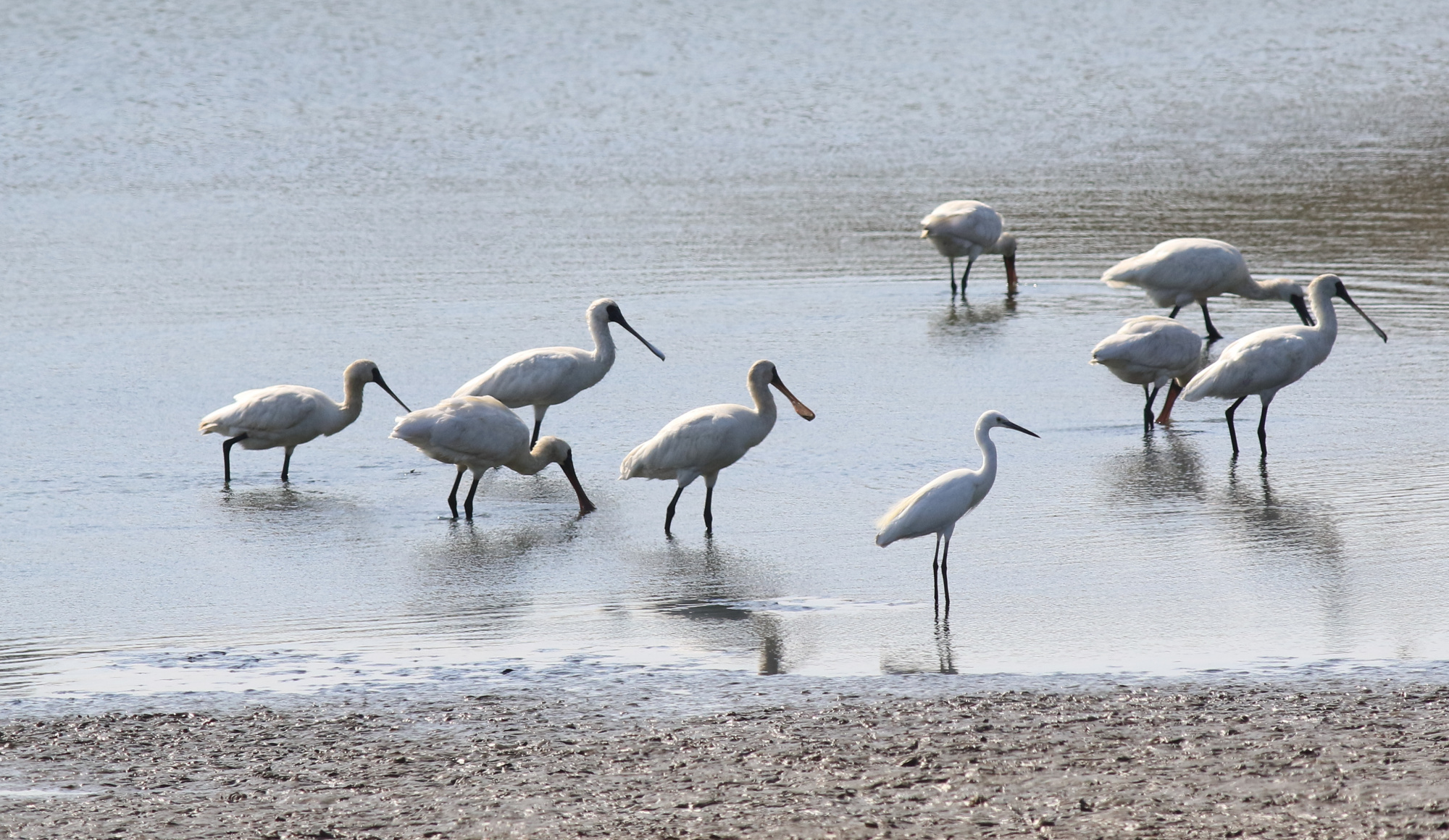 Black-faced Spoonbills and Little Egrets feeding in a fish pond. (Photo: Allen Lyu)
The application of photovoltaic systems to aquaculture farms (hereinafter referred to as Aqua-PV) has been actively promoted by the Executive Yuan as an important means of accelerating Taiwan's energy transformation. While Aqua-PV in open fields is done using ground-mounted systems with a maximum of 40% ground-coverage ratio, indoor Aqua-PV is done using rooftop systems which permit a much higher PV coverage ratio of 80%. Although indoor Aqua-PV seems more profitable, indoor fish farming is more technologically demanding as it requires 24-hour water quality treatment. Because of this, solar developers need to bring in new teams or cooperate with bigger fish farming businesses to set up aquaculture systems. Yet solar developers and investors believe that indoor Aqua-PV projects are more easily controlled and a less risky business venture compared with outdoor projects where there is more necessity to deal with traditional fish farming practices and management styles. Therefore, although the cost per unit area of ​​indoor projects is much higher than that of outdoor projects, it is now the favored method. Last month, one project secured a massive syndicated loan totaling NTD$8.88 billion (USD$291.3 million) from several banks, setting a record for the highest amount ever provided for an Aqua-PV project in Taiwan. Compared with traditional aquaculture in open fields, indoor projects would permanently alter the land use and should be permitted only after special consideration. However, there is currently a lack of relevant environmental and social regulations and little to no management guidelines for indoor Aqua-PV. Without proper action now, large-scale development of indoor Aqua-PV projects will likely get out of control, resulting in serious environmental degradation and aquaculture problems.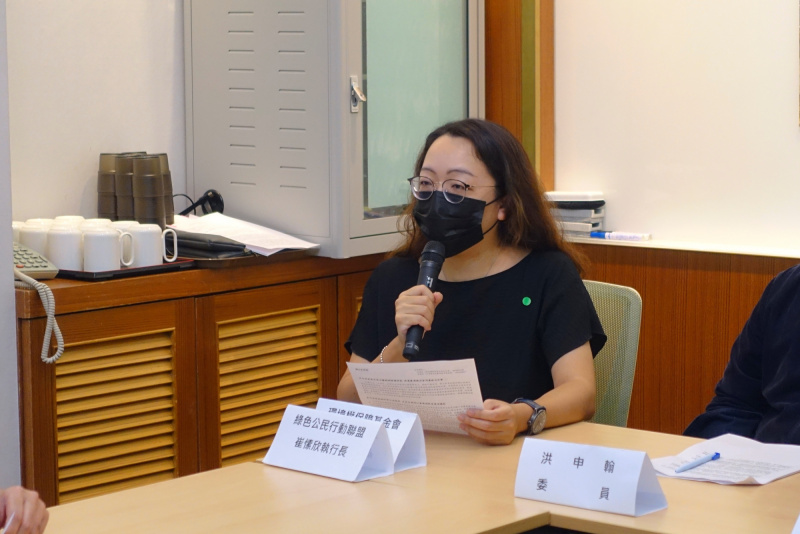 Joint Statement Press Release Host and Green Citizens' Action Alliance Secretary-General Cui Su-xin speaks at press conference.  (Photo: Wu Chin-Hsuan)
Lack of Standards for Indoor Aqua-PV Creates High Risk of Negative Environmental Impacts
Taiwan Wild Bird Federation Secretary-General Allen Lyu said Taiwan's southwestern coast is an important stopover and wintering area for migratory birds. In recent decades, natural mudflats on the coast have been greatly reduced and semi-natural wetlands such as outdoor fish farms and abandoned salt pans have become some of the most important alternative habitats for migratory birds. These include areas such as the Hanbao Wetlands in Changhua County, Chenglong and Kouhu Wetlands in Yunlin County, Budai Salt Pan Wetlands in Chiayi County, Chiku District in Tainan City, and Yong'an Wetlands in Kaohsiung City. In addition to providing foraging grounds for migratory birds, fish farm embankments adjacent to the sea provide areas for waterbirds to rest. Conservation species such as Black-faced Spoonbills are frequent visitors to fish ponds. To minimize the impact of photovoltaic development and preserve the important ecological functions of fish farms, in recent years, the Ministry of Economic Affairs, through an environmental and social review mechanism, has designated areas as being "priority', "of mitigation concern" or "to be avoided" for Aqua-PV installations based on ecological sensitivity. This was all done with the hope that outdoor Aqua-PV project developers would choose appropriate locations and construct their installments in such a way as to allow for coexistence with the local ecology. However, indoor Aqua-PV projects are not currently subject to any environmental and social review mechanism standards. After developing the panel installation, almost all the land is covered over by structures or shade, essentially abandoning the ecological function of the fish farm. There are also currently no zoning regulations to reduce ecological impacts or a limit on how many of these projects can be done in an area. If this is not addressed as soon as possible, a large number of unregulated and unmanaged Aqua-PV projects will spring up. It can be expected that this will destroy critical fish pond habitat resulting in serious impacts on the local ecology and the overall environment.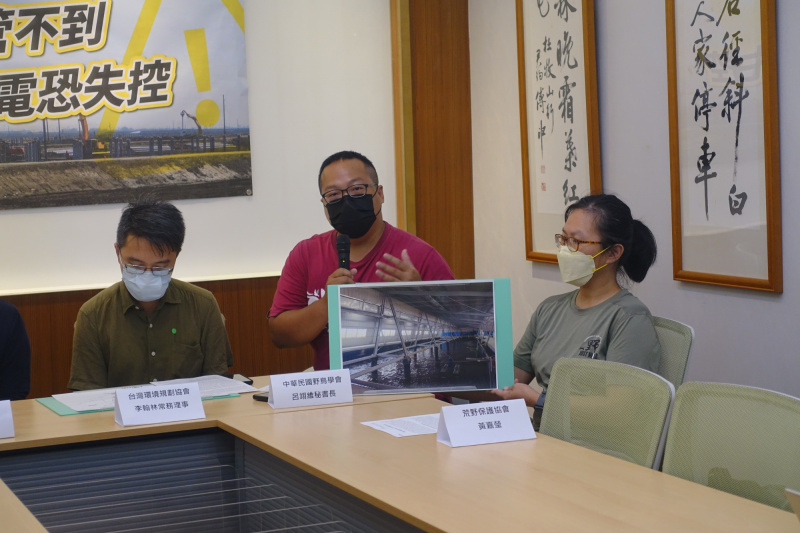 Taiwan Wild Bird Federation Secretary-General Allen Lyu Speaks at press conference. (Photo: Wu Chin-Hsuan)
We Must Address the Issue of Indoor Aqua-PV Before Hitting a Point of No Return
Environmental Rights Foundation researcher Hsu Po-Jen said that with indoor aquaculture, factors such as climate and water quality are controlled, and with the elimination of these limiting factors, fish production can greatly increase. It has also long been a policy goal of the Council of Agriculture to promote modernization of Taiwanese aquaculture. However, in the past, due to the high reliance on technology for indoor aquaculture in order to control the water quality, the high capital investment required, and the need for manpower to monitor the water quality 24 hours a day, aquaculturists had little willingness to invest in such plans and there were not many examples of successful cases. Yet now, the photovoltaics industry and financial institutions believe that indoor fish farms are a more predictable and a low-risk fish farming method, so they are preparing to invest heavily in indoor Aqua-PV projects. Chiayi County alone is estimated to have received Aqua-PV project applications totaling around 200 hectares. Such large-scale investment in indoor fish farming for such a small area is unprecedented. Meanwhile, aquaculturists have expressed reservations about whether Taiwan's indoor aquaculture infrastructure and current skill levels are sufficient to meet the expectations of the photovoltaic industry as it invests in these projects. They also pointed out that the photovoltaic industry is likely underestimating the operating costs and the risks posed by indoor fish farming. Hsu went on to explain that it generally takes about three years for investments in agriculture or fisheries start showing returns and to properly know whether production and sales can be stabilized. The risks that aquaculturists experience is not something the solar investors are familiar with. Also, even though investors are so eager to invest large sums in these integrated projects now, if in two or three years they aren't making enough, they may pull out. But it'll be too late for the land. The indoor fish farm facilities will already be built and the land already covered. Returning it to its original state will be difficult if not completely impossible. The land will already be past the point of no return.
There Should be Regional Inventories and Number Caps for Indoor Aqua-PV Projects; the Fisheries Agency Should Propose a White Paper on Indoor Aquaculture
Hsu Bo-Jen explained that as the environmental and social impacts of indoor Aqua-PV projects are so great, and because the technological intervention for indoor fish farming practices is higher, proper environmental and social regulations as well as appropriate aquaculture management guidelines are not only necessary, but required. Indoor Aqua-PV projects consist of rooftop panels attached to the indoor aquaculture facility. Therefore, those looking to establish new projects should first apply to the Fisheries Agency under the Council of Agriculture for permission to build the indoor fish farming facility. After that, they should go to the Bureau of Energy under the Ministry of Economic Affairs and apply for a photovoltaic installation permit. Also, as these projects involve both agriculture and electricity generation, it is only appropriate that both government agencies shoulder bear the responsibility of managing them together.
The Fisheries Agency should also create and publish a national white paper on indoor aquaculture. This white paper should address operating capacity, stable production and sales, ecological and other environmentally-related specifications, inventory and location planning, suitable fish species and management rules and standards. This information can then serve as a guide for aquaculturists throughout the country. It can also serve as the reference base for local governments as they review and issue permits for indoor fish farms.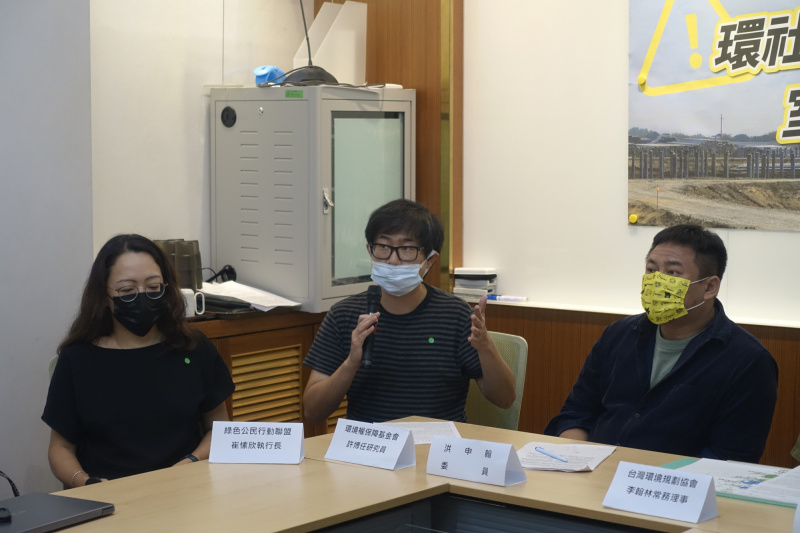 Environmental Rights Foundation researcher Hsu Po-Jen speaks at press conference. (Photo: Wu Chin-Hsuan)
Indoor Aqua-PV Project Planning Should Exclude Areas of Mitigation Concern and Have a Support Mechanism for Addressing Environmental and Social Issues
Taiwan Environmental Planning Association Executive Director Li Han-lin explained that southwestern Taiwan's low-lying coast was originally a brackish water floodplain where saltwater and freshwater mixed. Early residents there built embankments for fish ponds in line with natural environmental conditions. They also employed an "open" farming practice, which drained the water in winter, slowly drying out the ponds and naturally preparing it for the next aquaculture cycle. The small fish and shrimp which were exposed at the bottom of the ponds provided a foraging feast for wintering migratory birds. This is the local symbiosis between aquaculture and ecology. In addition to fostering production, coastal fish farms have also provided various ecosystem services and functions such as supplying important habitat and regulating climate and the water cycle. They have also helped create a cultural identity in traditional fishing villages. This is why, in the current environmental and social regulations for Aqua-PV projects, areas of mitigation concern which have important environmental and/or social components have been specifically identified. Fish farms within these areas could apply for open field Aqua-PV projects under the condition that specific mitigation measures are implemented to achieve coexistence and co-prosperity between local ecology, the fishery and the energy generation. There is also a chance that these areas could be returned to their original state after the 20-year installment period expires. Yet once an outdoor fish farm is converted into an indoor Aqua-PV project, it will cause irreversible and permanent changes. On the surface, it will increase profits. However, it will also completely sacrifice all other existing ecosystem services and functions. Therefore, indoor Aqua-PV projects should not be approved in areas of mitigation concern. Also, a joint review mechanism should be established by the Ministry of Economic Affairs and the Council of Agriculture to address such priority area applications. When an operator applies for a permit for an indoor Aqua-PV project, they should be required to include in the proposal measures for addressing the local environmental and social issues it may cause. This information can be used in the application review process as the feasibility and quality of the mitigation measures can be considered while deciding whether the application will be successful or permit prioritization will be granted.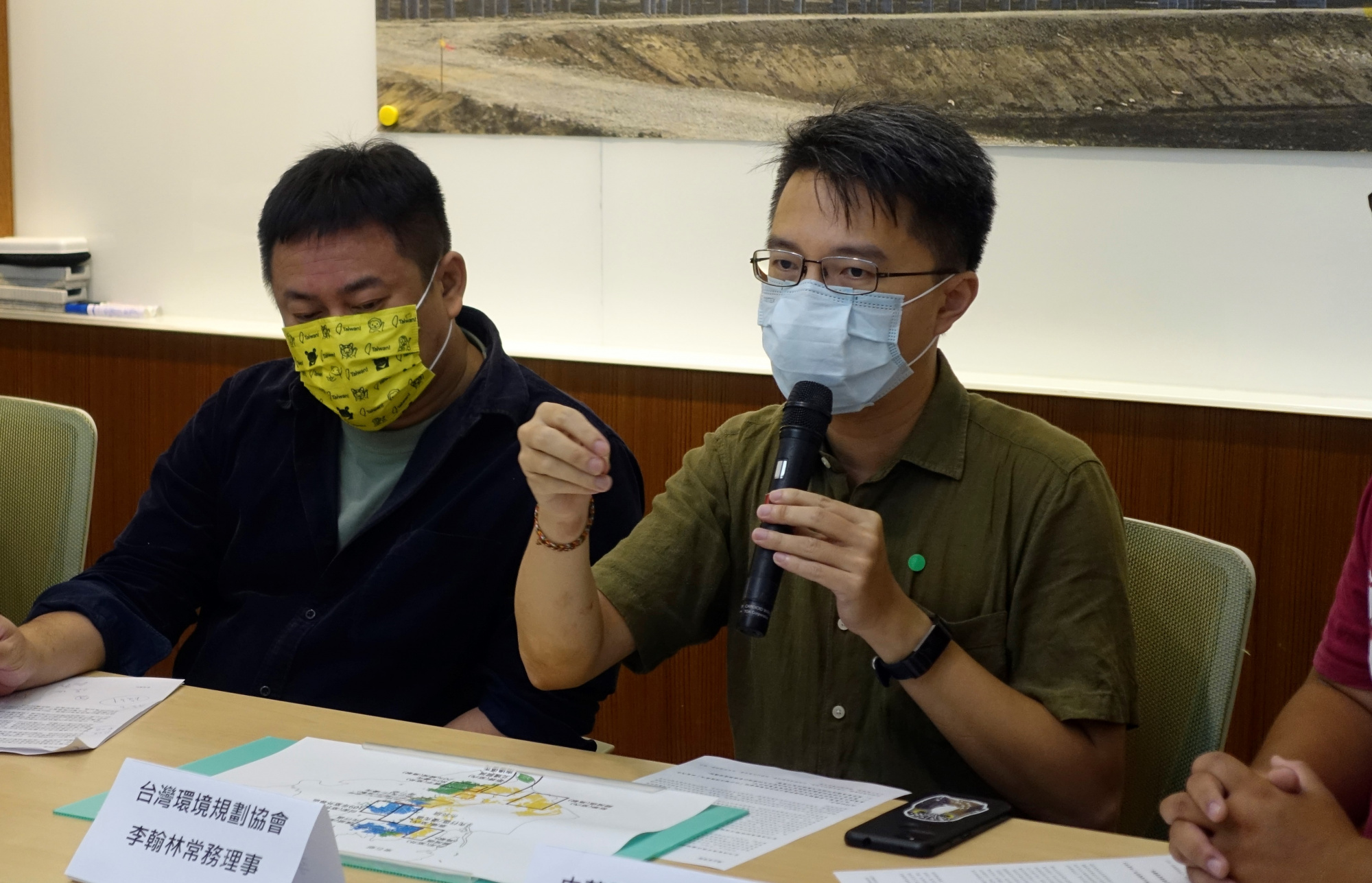 Taiwan Environmental Planning Association Executive Director Li Han-linspeaks at press conference. (Photo: Wu Chin-Hsuan) 
Legislator Hung Sun-han said that in recent years we have seen the emergence of many indoor Aqua-PV projects because for many lenders, it is relatively easy to obtain financing for indoor fish farms. This has led to a great deal of money and resources flowing in the direction of indoor aquaculture and may seem to have accelerated the modernization of Taiwan's aquaculture, a goal actively promoted by Fisheries Agency in the past. Yet we are also seeing some problems emerging, including those related to ecology and coastal protections, not to mention the impact these rapid changes are having on both production patterns and social relations in fishing villages. How do we manage this rapidly emerging form of fish farming? This has never been adequately addressed. Appropriate support mechanisms need to be planned by the relevant ministries as soon as possible.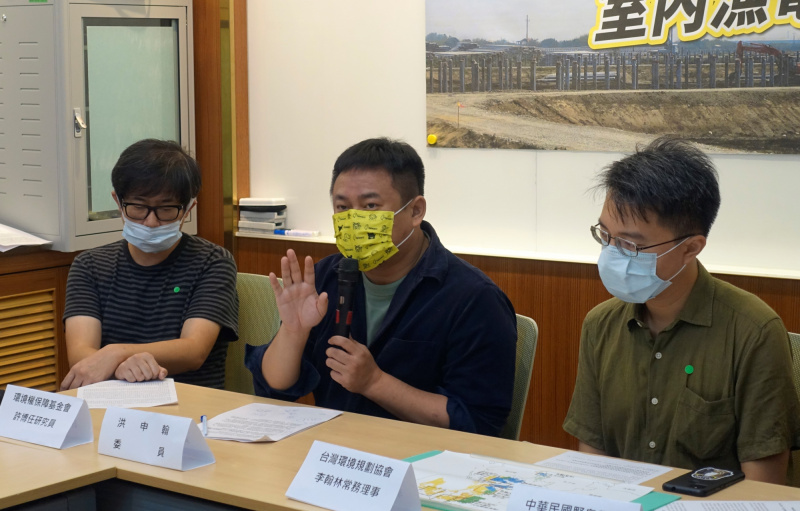 Legislator Hung Sun-han speaks at press conference. (Photo: Wu Chin-Hsuan)
Our Demands:
Relevant local bodies responsible for agricultural management and the Ministry of Economic Affairs should immediately and comprehensively suspend the granting of permissions for the use of indoor aquaculture production facilities located in areas of mitigation concern as well as permits for rooftop electricity generation.

The Council of Agriculture and the Ministry of Economic Affairs should develop and promote a mechanism to address the environmental and social issues regarding indoor Aqua-PV projects as soon as possible.

The Council of Agriculture should research and create a policy proposal for indoor aquaculture as soon as possible.
Issuing Organizations:
Taiwan Wild Bird Federation, Taiwan Environmental & Planning Association, Citizens of the Earth, Taiwan, The Society of Wilderness, Green Citizens' Action Alliance, Environmental Rights Foundation