Number of Black-faced Spoonbills in Taiwan Exceeds 4,000 for first time in Census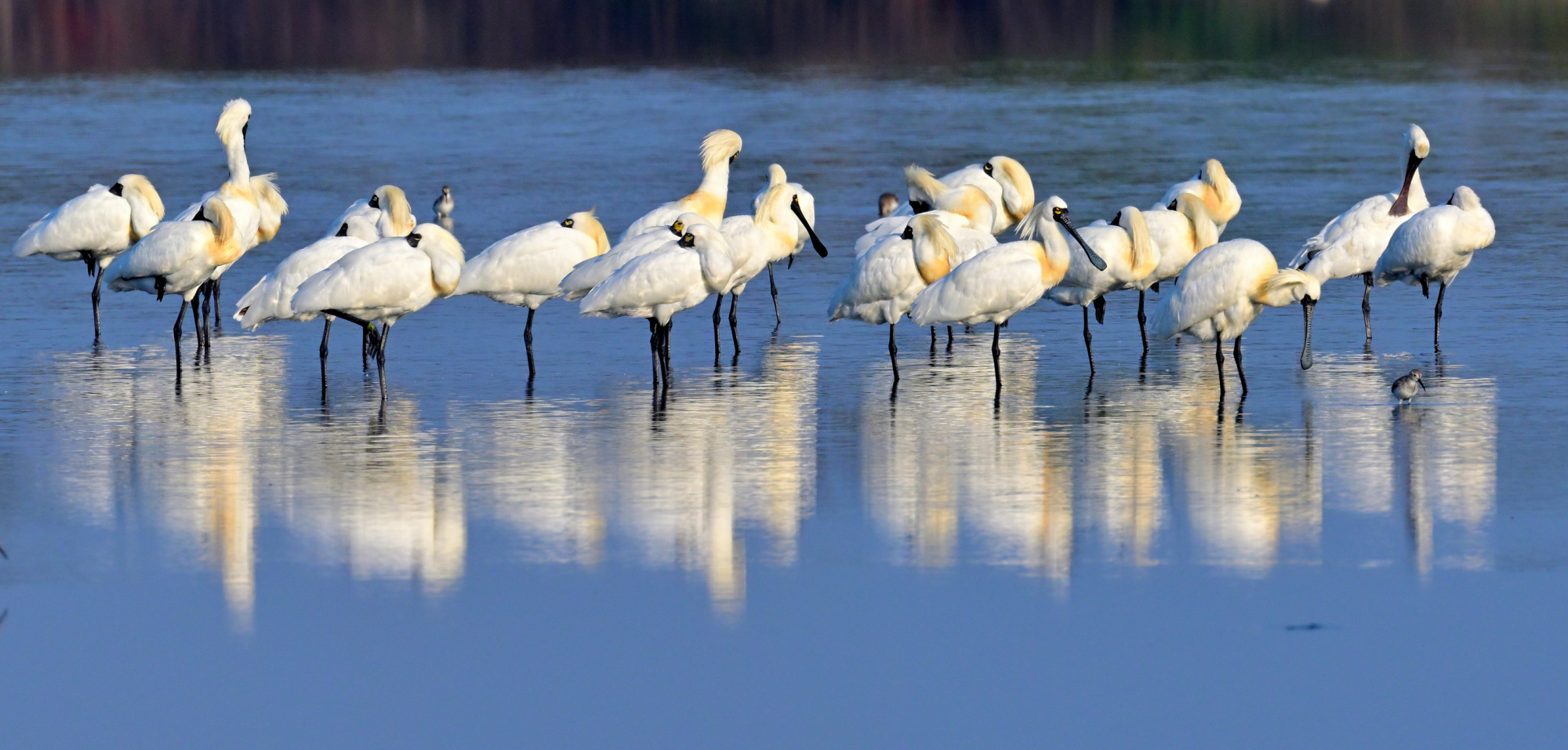 Photo: Philip Kuo
Results from the 2023 Taiwan Black-faced Spoonbill Census showed a total of 4,228 Black-faced Spoonbills in Taiwan, a new record and the first time over 4,000 have been recorded

Done in coordination with 2023 International Black-faced Spoonbill Census organized by Hong Kong Bird Watching Society; this year 6,603 birds were recorded, a new record

Taiwan's numbers comprise 64% of the global total and 91.6% of the 2023 total increase

The most important areas for the endangered waterbird were southeastern Taiwan's Tainan City, Kaohsiung City, and the Jhoushuei River Mouth
Results of the 2023 Taiwan Black-faced Spoonbill Census revealed a total of 4,228 wintering in Taiwan proper and its outlying islands, up 404 from the year before and a new record. With annual census numbers consistently showing 50% to 60% of the global population, Taiwan is one of the most critical habitat areas for the iconic and globally threatened species. This year's survey lasted from January 6-8. Supported by the Taiwan Forestry Bureau, the Taiwan Wild Bird Federation organized the event in Taiwan, working with birders, bird societies, government agencies, and other groups from all over the country to conduct the census. In recent years, over 100 surveyors have been required to accurately conduct the count. Taiwan numbers accounted for 64% of the global population this year.
The count was done in coordination with the 2023 International Black-faced Spoonbill Census. This international event is organized by the Hong Kong Bird Watching Society and sees participating groups representing all of the migratory waterbird's range take part. With a total of 6,603 birds recorded, it shattered the global record set just last year. As the global total increased by 441 compared to last year and Taiwan's total increased by 404, Taiwan accounted for 91.6% of the total increase. This shows that habitat conservation in Taiwan is crucial to the survival of the global population. As for other range areas, according to statistics from the Hong Kong Bird Watching Society, there were 1,307 (19.8%) in China, 610 in Japan (9.2%), 299 in Hong Kong and Shenzhen (4.5%), 80 in Vietnam (1.2%), 54 in South Korea (0.8%), 21 in Macau (0.3%) and 4 in the Philippines (0.06%).
More than 90% of the wintering Black-faced Spoonbills counted were along Taiwan's central-west and southwest coast in Tainan City, Kaohsiung City, Chiayi County, Yunlin County and Changhua County. Tainan again recorded the most, with 2,279 (53.9% of the national total). They were mainly concentrated in the city's Chiku District and Annan District's Sicao Area. Another 947 (22.4%) were recorded in Chiayi County, mainly in the Budai and Aogu wetlands. Kaohsiung City had 450 (10.6%), mainly located in the wetlands at Chiehting and Yong'an as well as the Gaoping River. Changhua County recorded 356 (8.4%), mainly along the northern bank of the Jhoushuei River Mouth. Meanwhile, Yunlin County recorded 93 (2.2%), mainly at Kouhu Lake and the southern bank of the Jhoushuei River Mouth. It is worth noting that this is the second year the Jhoushuei River Mouth has hosted such a large number of wintering Black-faced Spoonbills during the census.
In addition, Pingtung County, Kinmen Island and Yilan County all had small but stable populations. In Pingtung, 16 (0.9%) were recorded, mainly at Dapeng Bay and Tiancuo. Kinmen had 46 (0.8%), primarily in Cihu Wetland and Lieyu. In Yilan, 31 (0.7%) were recorded, mainly at Zhu'an. There were also records for Penghu County, New Taipei City, Taichung City, Taipei City and Hsinchu County, however each had no more than 1-4 individuals recorded.
Black-faced Spoonbills were recorded in 13 Taiwanese cities and counties in both 2022 and 2023 and its distribution range in country seems to be increasing. Therefore, chance sightings of Black-faced Spoonbills outside their traditional wintering areas have become more normalized in recent years. From small numbers to large flocks, continuous monitoring is necessary to better understand where the next wintering hotspot in Taiwan will be.
As the number of Black-faced Spoonbills in Taiwan continues to increase, it indicates that the current habitat carrying capacity should still be within an acceptable range for the species. However, according to researchers in Tainan, winter rainfall amounts in southwestern Taiwan this year have been too low, resulting in many traditionally used salt pan and fish pond habitats becoming too dry. This is driving the Black-faced Spoonbills to forage in other places, greatly increasing the amount of time and effort surveyors need to do the census. In addition, cases of Black-faced Spoonbills found suffering from botulism or in a severely weakened state have been higher this year and may be related environmental factors. As an example, during this year's census, some participants in Tainan rescued a Black-faced Spoonbill they discovered in a weakened state while surveying. Therefore, although the increase in the number of Black-faced Spoonbills is good news, continued vigilance by both local people and scientists is required to combat the effects environmental challenges such as climate change and habitat reduction which can potentially harm its recovering numbers.  
Partners:
Special thanks to the Wild Bird Society of Keelung, Wild Bird Society of Taipei, Taoyuan Wild Bird Society, Wild Bird Society of Hsinchu, Miaoli Natural Ecology Society, Wild Bird Association of Taiwan, Changhua Wild Bird Society, Wild Bird Society of Yunlin, Wild Bird Society of Chiayi City, Wild Bird Society of Tainan, Taiwan Black-faced Spoonbill Conservation Association, Wildlife Conservation Institute of Tainan City, Kaohsiung Wild Bird Society, Chiehting Ecological and Cultural Association, Wild Bird Society of Pingtung, Wild Bird Society of Yilan, Wild Bird Society of Hualien, Wild Bird Society of Taitung, Wild Bird Society of Kinmen, Wild Bird Society of Penghu, and other groups that assisted with the census.
Subsidy Units: 




Forestry Bureau, Council of Agriculture, Executive Yuan and Taijiang National Park