Eight Colors, One Future: Fairy Pitta Conservation in Taiwan and Efforts for the Future -Part 1
By Scott Pursner, Taiwan Wild Bird Federation Director of International Affairs
Part One of a Two Part Series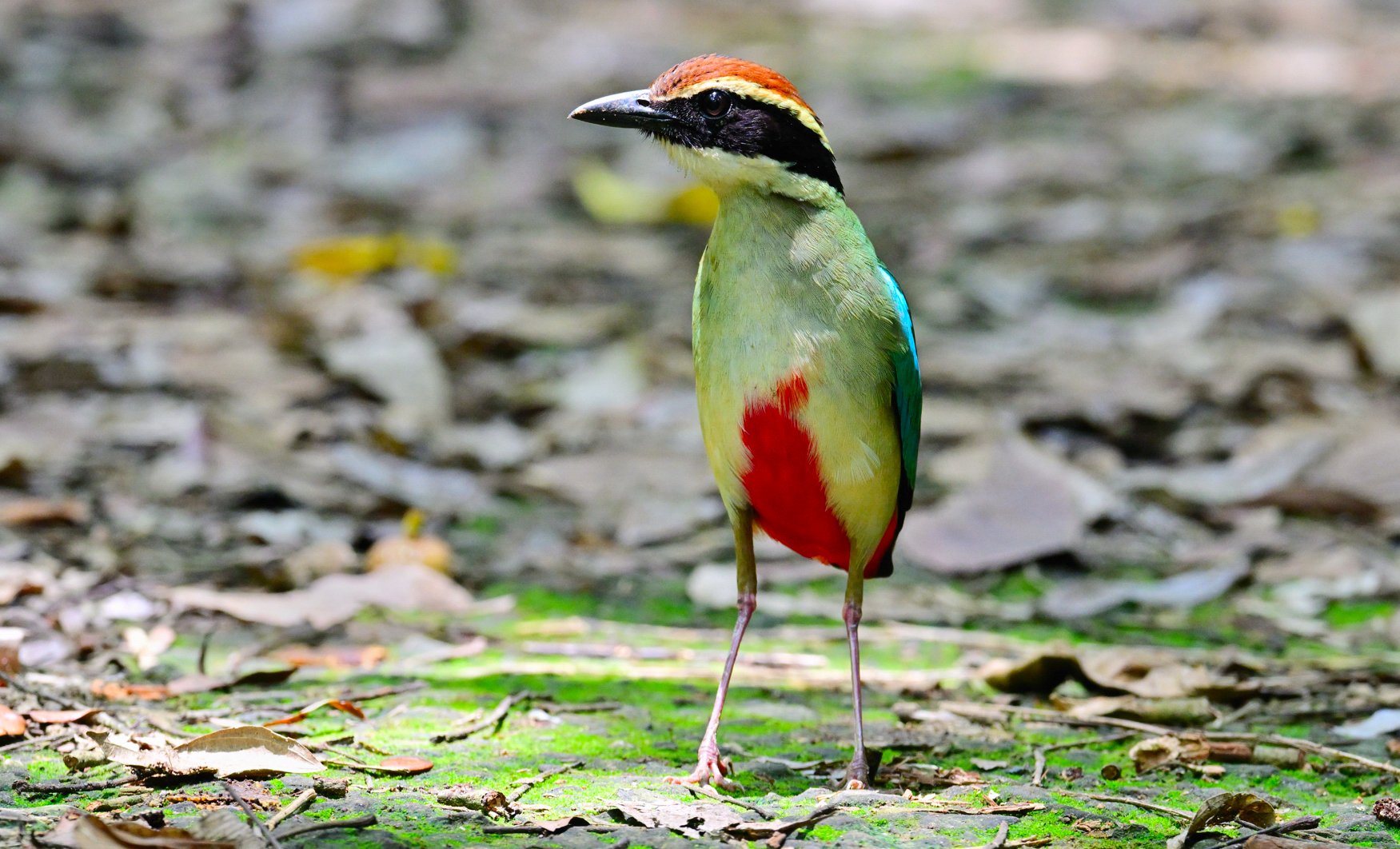 Fairy Pitta. (Credit: Philip Kuo) 
The Fairy Pitta (Pitta nympha) is a long-distance migratory land bird restricted to the East Asian-Australasian Flyway. Known in Mandarin as the "eight-colored bird" (八色鳥), its extensive breeding range includes the Korean Peninsula, China, Japan, and Taiwan. Taiwan, however, is where much of the research on the species over the last 20 years has been conducted. This passerine also holds special significance in Taiwan among those involved in the country's environmental movement as it played an outsized role in Taiwan's modern conservation history. Yet for such a brightly colored bird, it still keeps its secrets well hidden. Even now, there is much that is not known about the species, which is considered "vulnerable" by the IUCN.
Pitta History in Taiwan
Though first described by Temminck & Schlegel in 1850 (1), the first mention of the Fairy Pitta in Taiwan came from famed British naturalist Robert Swinhoe in 1864 (2). Swinhoe thought he had discovered a new species and called it Pitta oreas, an ally of Pitta cyanoptera (Blue-winged Pitta) and Pitta nympha (Fairy Pitta). Publishing his description in journal The Ibis, he claimed the specimen was from the Formosan mountains. The area was likely what we would today call Taiwan's western low-altitude foothills. In 1864, Swinhoe probably had no access to the actual high mountains or the eastern portion of Taiwan, as they were not under the control of the Qing Dynasty at that time.
After Swinhoe, it wasn't until 1951 that the species was more thoroughly studied by Japanese ornithologists Masauji Hachisuka and Tatsuo Udagawa (3). They listed it as a subspecies of the Indian pitta (Pitta brachyura nympha), and called it "a summer visitor.... more frequently met with on the western hills than the eastern side." The assumption that the Fairy Pitta was a summer migrant to Taiwan would continue until the late 20th century. Prior to the 1970s, Fairy Pittas were also under pressure in Taiwan due to hunting, as specimens were able to fetch high prices (4). However, the situation improved after the bird specimen industry was more strictly regulated by the central government in the early 1980s (4).
The first Taiwanese researcher to discuss the species was Dr. Lucia Severinghaus in 1991 (5). Her paper described a Fairy Pitta nest discovered in Taichung City's Dakeng District in 1987, a year after the IUCN had declared it "vulnerable" due to presumed population declines across its range. Severinghaus said the bird was "a rarely seen uncommon summer visitor" and "one of the least known bird species in Taiwan." However, she did speculate that it should be a regular breeder even if only at a few locations.
Internationally, the Fairy Pitta was formally afforded protections under the Convention on International Trade in Endangered Species of Wild Fauna and Flora (CITES) in 1992.
From 1864 to 1991, very little was known about the distribution and ecology of this secretive species in Taiwan. It could have stayed that way if not for various land development pressures which threatened its breeding habitat. By the early 2000s, it would become the eight-colored face of the Taiwanese environmental movement.

Map of Taiwan highlighting Yunlin County and Huben Village. (Credit: TWBF)
Enter Pillow Mountain
Yunlin County sits in the center of Taiwan's west coast and is mainly known for agriculture. In 1995, the county magistrate green-lighted certain parts of an area known as Pillow Mountain in eastern Yunlin's Huben Village for gravel extraction. The area was home to a small community of roughly 1,000 people, mainly farmers. Between 1995 and 1999 nothing happened. But then in February of 1999, though no permits for extraction were officially issued, residents began seeing piles of gravel along the hillsides (6). They didn't want the gravel extraction due to the pollution and property damage it could cause as well as the possibility of bad fengshui due to certain extraction sites being too close to the local Tien-Shen Temple (6).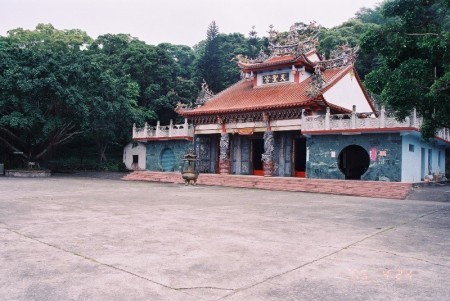 The Tien-Shen Temple aka the Fairy Temple, 2005. (Credit: Mark Wilkie)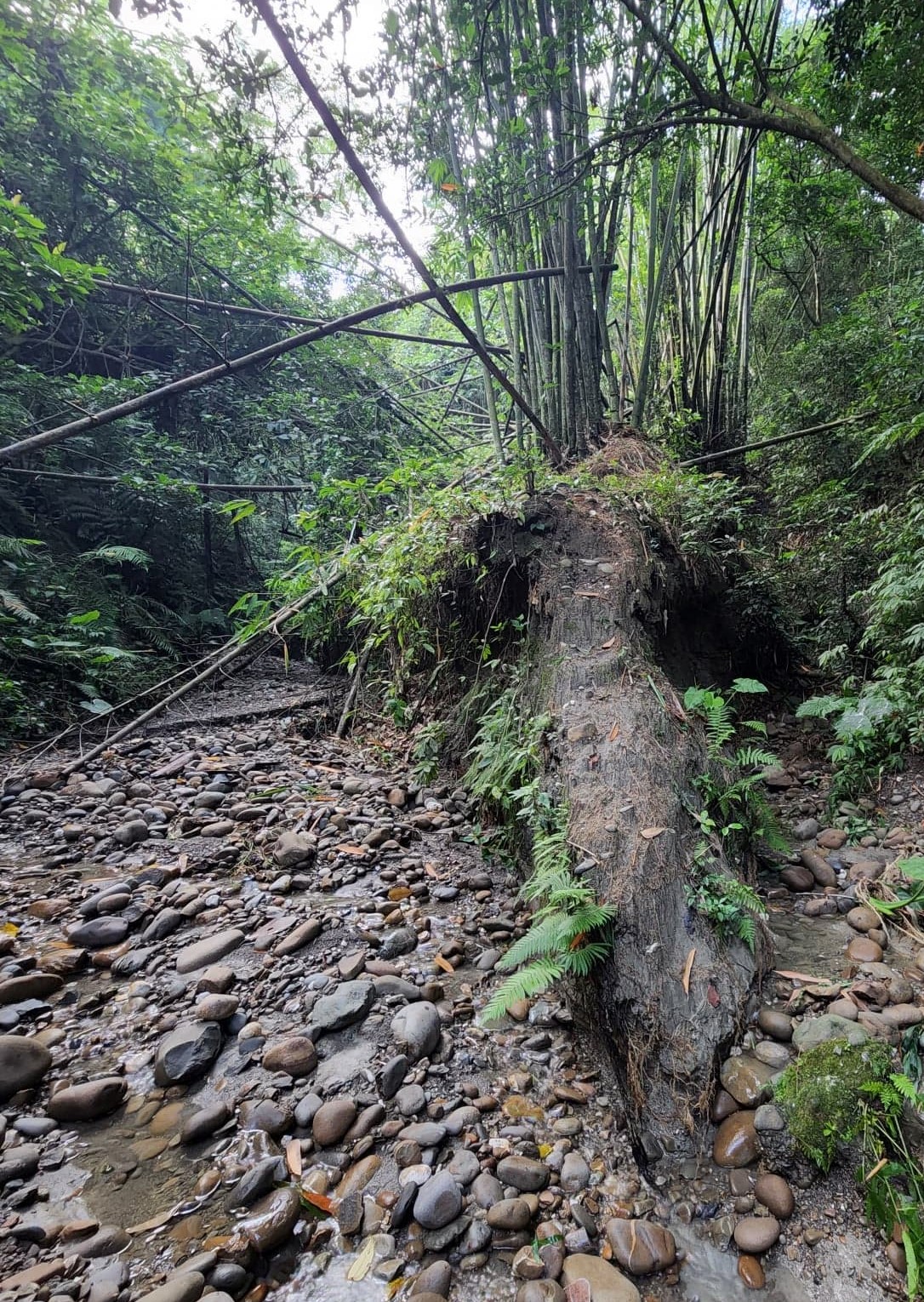 Fairy Pitta Habitat in Huben Village, Yunlin County, Taiwan. (Credit: TWBF)
By August of 1999, the government had still not addressed their issues so the villagers created the Anti-Gravel Extraction Association, mainly arguing that the Environmental Impact Assessments done for the extraction areas were flawed (6). Although this matter was later addressed, permits were still being granted and extractions continued. The fight changed in November of 1999 is when researchers and conservationists got involved after hearing that there was a Fairy Pitta spotted in the woods around Pillow Mountain (6). It prompted the Taiwan Wild Bird Federation, Taiwan's largest bird conservation organization, and its partners, to get involved in the fight.
As part of these efforts, TWBF member, the Wild Bird Society of Yunlin sought out Scott Ruey-shing Lin, then an assistant researcher at the Taiwan Endemic Species Research Institute, to help survey for the species in 2000. According to Lin, "Some locals said the Fairy Pitta was quite common there. But we knew so little about it back then that the members of the Wild Bird Society of Yunlin didn't know if it was true or not. As some of them were good friends, they asked me to help them verify the status of the Fairy Pitta in the village."
This would start Lin down a path that he has walked for the last 22 years.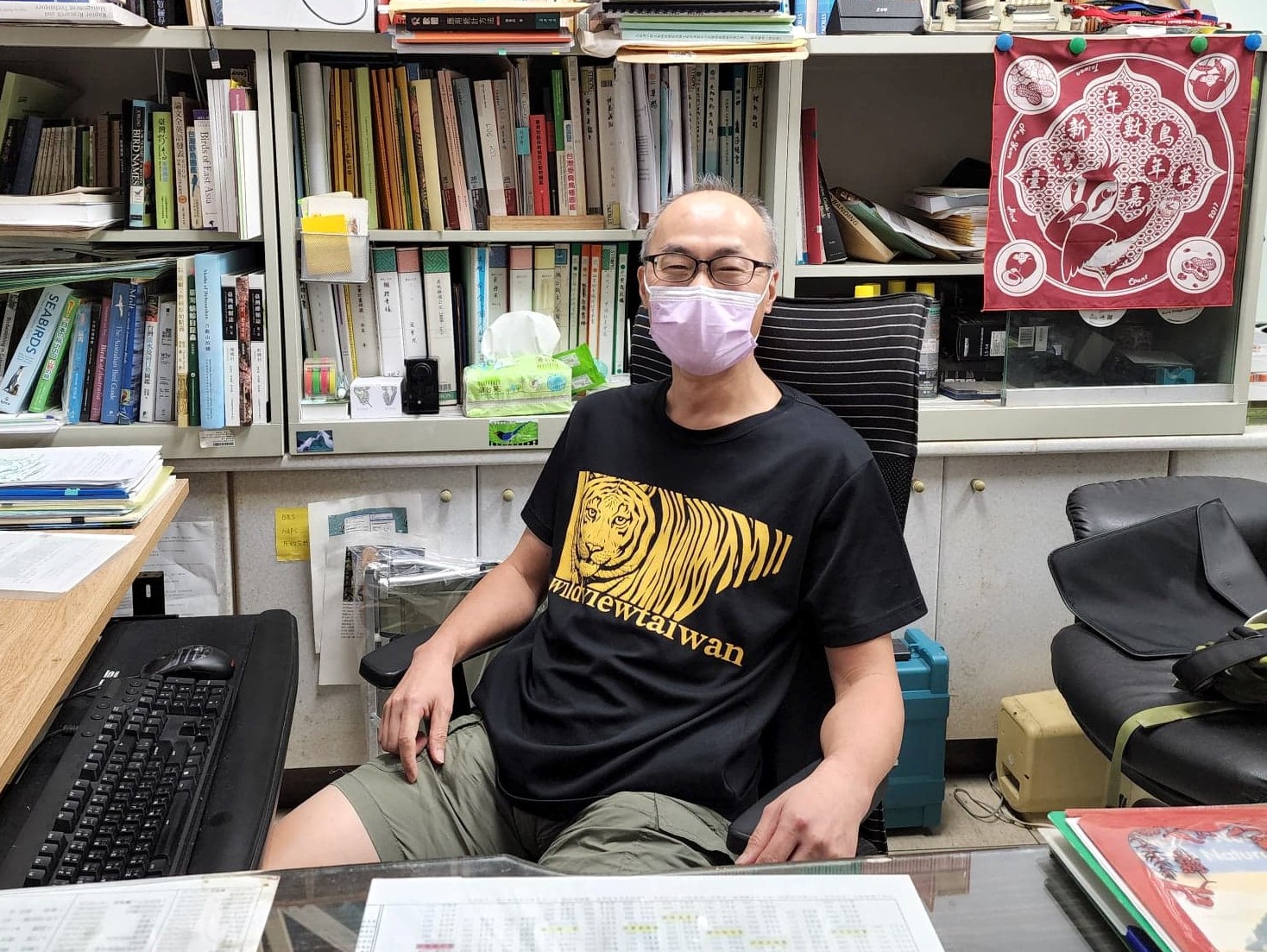 Dr. Scott Lin of the Taiwan Endemic Species Research Institute. (Credit: TWBF)
"That spring, I spent my personal time, Saturdays and Sundays, going to the village to check for the birds. It was easy since as I discovered, they were very common there. In the beginning, I was just doing some basic surveys in Huben Village. Then I prepared some surveys for them [the local people] to do. It was very useful evidence," he said.
The "evidence" mentioned by Lin refers to proof that the Fairy Pitta was breeding regularly in Huben. Furthermore, with so little known in Taiwan or elsewhere about the species, its ongoing presence there during the breeding season raised the possibility that Taiwan had one of the largest breeding populations of Fairy Pittas in the world. This gave NGOs and villagers an argument to try and stop the gravel extractions. An environmental movement took shape, led by members of the local community and conservation groups, and the Fairy Pitta was their star.
In February 2000, the TWBF launched a global appeal called "Save Huben Village – Home of the Fairy Pitta." By May, 73 international conservation organizations from 21 different countries had come out in support of the campaign. Locally they worked with villagers to increase publicity for the issue and holding letter writing campaigns and petition drives. The TWBF was also applying to BirdLife International for Huben Village and Pillow Mountain to be included for certification as an "Important Bird and Biodiversity Area" (IBA) (7). Though without domestic legal effect, this international certification of a site's importance to birds and biodiversity could be used to fight for legal protections and to show the world the importance of this fairy pitta hotspot.
In June, the case to protect the area was bolstered when footage of a Fairy Pitta in Pillow Mountain came to light. With the video and thousands of signatures locally and internationally in hand, a public hearing at the Legislative Yuan was held on the issue. This got the attention of Taiwan's Presidential Office (6). Recently-elected President Chen Shui-bian came out in favor of protections for the Fairy Pitta. He said "Taiwan is a beautiful island and gives due consideration to both conservation of the natural environment and industrial development. People living in harmony with nature means that the environment will be healthy and will last forever. If Taiwan lost the Fairy Pitta, we would not only lose the most beautiful thing in Taiwan, but the whole world would be a poorer place." (8) Later that month, on June 23rd, Taiwan's Council of Agriculture suspended gravel extraction operations and considered giving Huben and Pillow Mountain the designation of "Major Wildlife Habitat" (7).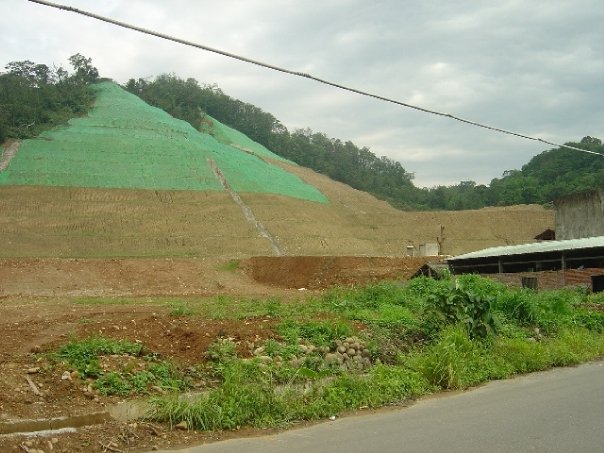 Results of Gravel Extraction and Mining in Huben Village, 2006. (Credit: Mark Wilkie) 
On July 1st, Marco Lambertini, then head of BirdLife International's International Affairs Division, came to Taiwan to urge the government to name Pillow Mountain an important wildlife habitat and stop gravel extraction (9). Huben gained IBA status in September of that same year (7).
The gravel extraction issue at Pillow Mountain thrust Huben Village into the local and international spotlight. Soon there were a number of conservation groups, researchers, and birders headed there for research, organizing, or to catch a glimpse of a Fairy Pitta. As there was no visitor's center or a place for all these new guests, in 1999 the village decided to pool resources to create the Huben Community Space, known today as the Fairy Pitta Café and run by owner and Fairy Pitta expert Chen Jia-hong. Originally from neighboring Chiayi County, Chen first came to Huben in 2007 to work as a research assistant in Lin's Fairy Pitta surveys. He explained, "This place was created by the village and really only started from the time the environmental issues started up. The villagers thought that if they created a specific place for visitors, they could come and make the connections necessary to bird or find what they were looking for. It became Huben's de facto visitor center." The center went on to serve as a base of operations for researchers, birders, and international guests who frequented the area over the coming years and is still in operation today.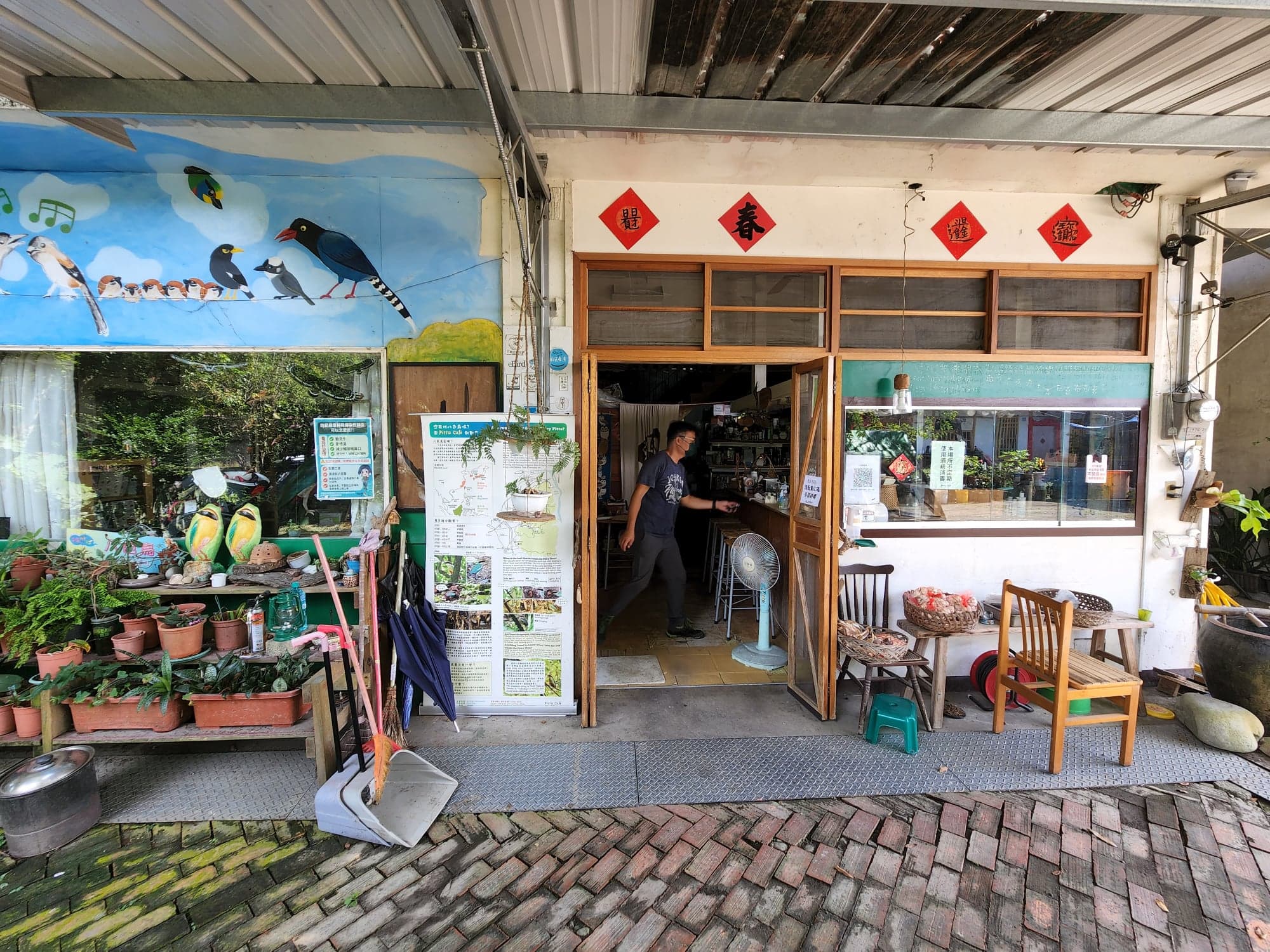 Fairy Pitta Cafe. (Credit: TWBF)
The increased profile of the gravel extraction issue eventually prompted the Council of Agriculture to approach Scott Lin, who had already been conducting preliminary research on the Fairy Pitta population there, and commission him to execute a more detailed study. According to Lin, "From 2001, there were two projects. The first one was to understand the status of the Fairy Pitta in Taiwan, and the second was to do some detailed studies of the area around Huben."
The survey in Huben was technically easier, yet one problem remained—how to survey these secretive forest dwellers which prefer leafy undergrowth in dense forests. During his earlier work, Lin discovered that males were highly territorial just before breeding began and would respond to pre-recorded calls, also known as playbacks. He decided to test playbacks as a tool to conduct surveys, which proved a great success. Responses were quick, with most Fairy Pittas replying to the playbacks within five minutes of the recording (10). This greatly increased the chances of detecting pittas, and would lead to population estimates twice as high as previously thought (11). The study also found that the pittas were most active prior to the breeding season, during a period of about 3 weeks between late April and early May. Once breeding had begun, they would go silent. Knowledge that playbacks were effect in surveying for pittas would change the way that surveys and population modelling for the species were conducted.
An island-wide survey was to be a much bigger undertaking, as such a large-scale survey for such a secretive species had never been done before, let alone by Lin as one person. It was at this time he thought of the potential of "citizen science" for doing such a project. As he put it, "I knew there were many birdwatchers around all of Taiwan. I also knew that most of them didn't know Fairy Pittas. But there would definitely be a strong attraction for them. It could be possible to design some kind of project and then invite birdwatchers from around Taiwan to use the same method to conduct the survey."
After coming up with a standardized experimental design method, Lin took to the road in January and February 2001, going to each local bird society to pitch his idea, compiling a list of names of those interested, then teaching the volunteers how to do the surveys. About 250 volunteers were mobilized for the surveys that took place in 2001 and 2002 (11). In the field, volunteers would fill out forms and send them back to him to check and verify, contributing data that proved useful during analysis. These earlier surveys showed that pittas were also breeding by the Shimen Reservoir in northern Taiwan's Taoyuan County as well as in Kaohsiung's Meinong District. Overall, it seemed that areas with substantial forest cover in low-elevation hilly terrain could serve as potential Fairy Pitta habitat, with particularly high numbers of sightings in forested hills in Taoyuan, Miaoli, Taichung, Yunlin and Tainan Counties (11). A conservative estimate of Taiwan's overall Fairy Pitta population was put at more than 2,000 individuals (11). This served as a breakthrough in understanding the population status of Fairy Pittas in Taiwan, at a time when the global population of the bird was thought to be between 1,500 and 10,000.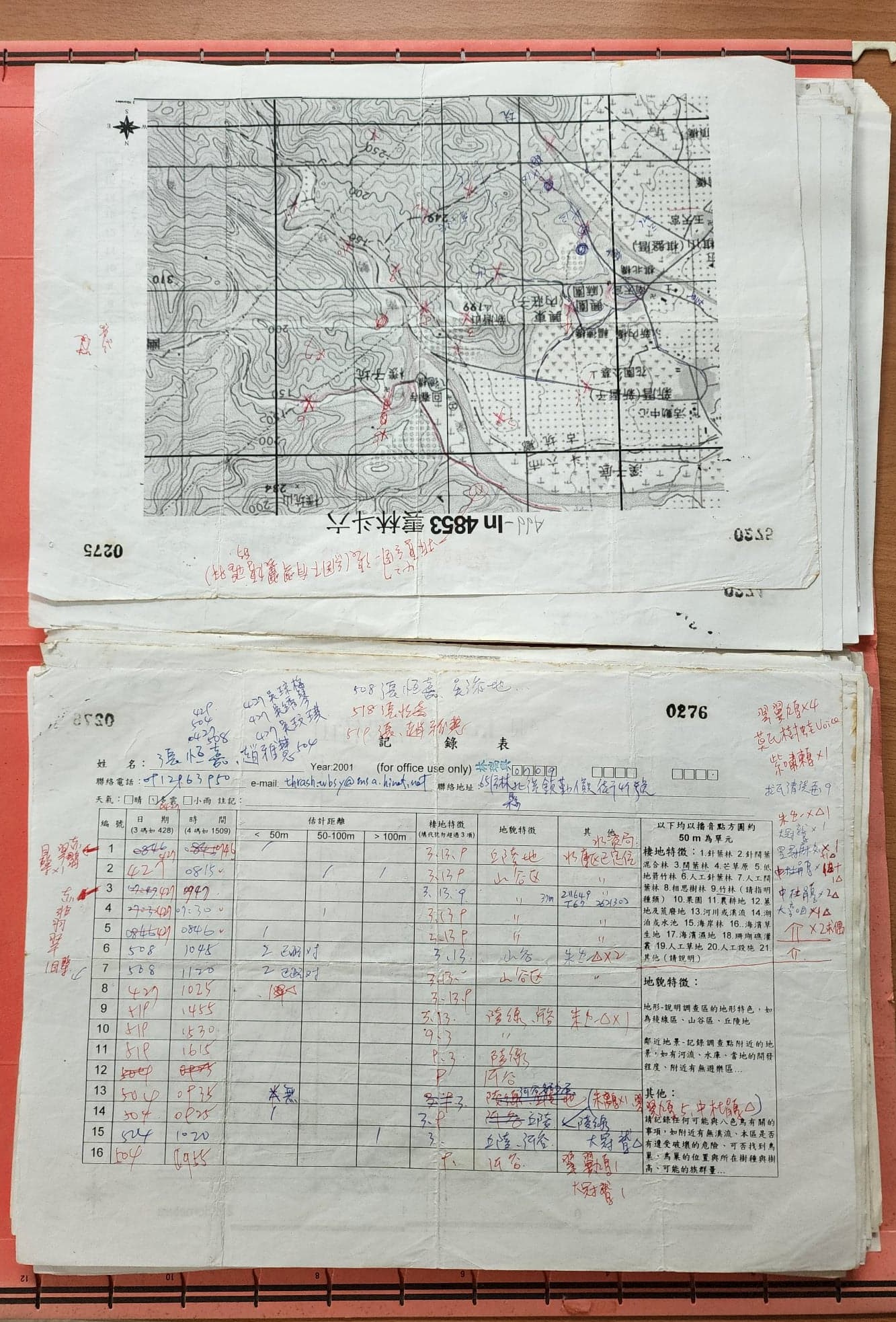 Data Recording Sheet and map from 2001 Survey. (Credit: Scott Lin)
Though having initial success in 2000, a small amount of extraction permits were still being issued after since the extraction areas were on private land. Yet following the efforts of local people and NGOs, and with the use of Lin's data, the Council of Agriculture in 2005 directed the Ministry of Economic Affairs to fully ban the extraction of gravel at Pillow Mountain to conserve Fairy Pittas under the Sand and Gravel Excavation Act. That same day, the MOEA declared a 588-hectare zone in Linnei Township and Pillow Mountain as off-limits to gravel extraction. According to Lin, it was a conservation victory at the time, with about 20-30 Fairy Pitta breeding in that area (7).
In November 2008, the Forestry Bureau would declare 1,737ha of land including parts of Huben and neighboring Douliu in Yunlin as well as a section of Zhushan Township in Nantou County the Yunlin Huben Fairy Pitta Major Wildlife Habitat (7).
But though the gravel extraction was eventually stopped, an even greater threat to the Fairy Pitta population in Huben was taking shape in the construction of the Hushan Dam.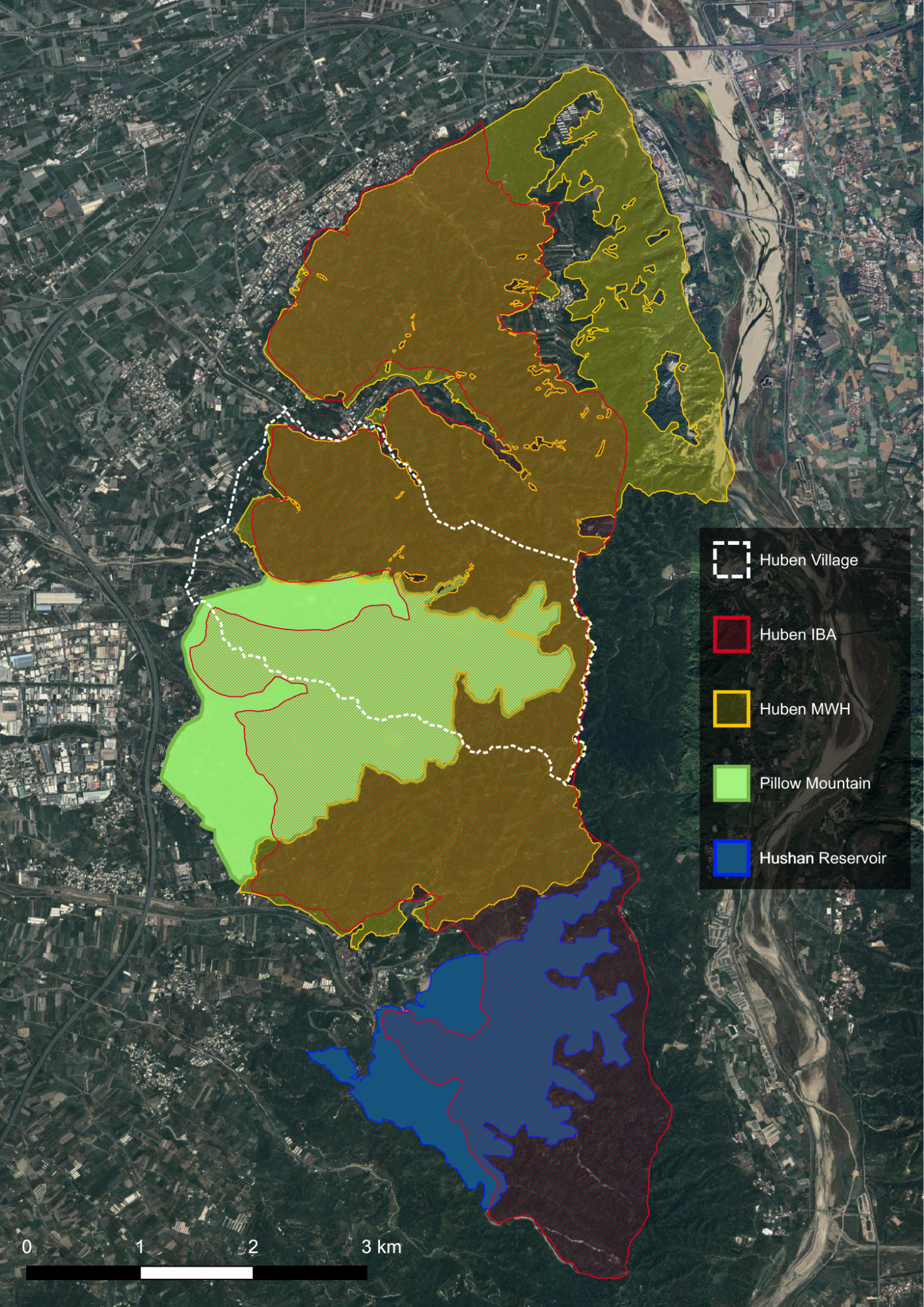 Map of area around Huben village involved in the Fairy Pitta conservation history discussed in article: white dotted line = Huben Village, red line = boundaries of Huben IBA, yellow line = boundaries of Huben Major Wildlife Habitat, green area = Pillow Mountain, blue area = Hushan Reservoir.
Hushan Dam
Just 7.7 kilometers south of Huben Village is Yunlin's Youqing Valley, part of the Huben-Hushan IBA. In December 1994, initial plans were put forth to submerge the valley and create a reservoir using water diverted from the Qingshui River, which developers and the government said would address local water shortages and mitigate serious land subsidence resulting from excessive pumping of groundwater. These plans were temporarily shelved before being dusted off by policymakers in 2000 around the same time of the gravel extraction issue (12).
Yet this fight was more difficult. In the words of Lin, "It was a very different situation when it came to the Hushan Dam since it was a kind of national project. Most people in Taiwan would look at it as important for the country."
And though the site was ecologically important for many other reasons, including 21 different frog species, certain Taiwan endemics, and other flora and fauna, Fairy Pittas took center stage. With such little information from other known parts of its breeding range in Japan, Korea, and China, Taiwan, and Huben in particular, were thought to be the most important breeding habitat for the globally threatened species.
Lin was approached by Taiwan's Water Resource Agency in 2002 to help develop a long-term monitoring project to survey the Huben-Hushan IBA area to understand the possible long-term effects of the Hushan Dam on the population of the Fairy Pitta. From 2004 to 2014, he surveyed the area annually to assess population numbers before, during, and after construction.
Just as with the gravel extraction, a movement took shape to stop the dam's construction. In the early 2000s, the Taiwan National Coalition Against the Hushan Dam was formed for this purpose. Mainly represented by Wild at Heart Legal Defense Association, the alliance included the Wild Bird Society of Yunlin, Taiwan Wild Bird Federation, Taiwan Environmental Protection Union, Meilin Community Development Association, Taiwan Academy of Ecology, Environment and Animal Society of Taiwan, Taiwan Environmental Action Network, and many others (13). One of the people actively involved with work on the ground in Huben was Mark Wilkie, a bird enthusiast and wildlife documentarian. In 2003, Wilkie moved to Douliu, Yunlin's largest city, from his native South Africa. Having just missed the Fairy Pitta season in 2003, Wilkie recalled how excited he was to go looking for a pitta in his local birding patch in 2004. Yet, when the time came, everything was gone. "The whole valley had been destroyed due to the gravel extraction," he recalled. So he headed to Huben, where he was put in contact with Mr. Zhang, a well-known former hunter turned pitta guide. Wilkie and his wife hired Mr. Zhang to help them find pittas around Huben. Within 30 minutes, they had already spotted seven.
Wilkie met Lin a few months later at the Fairy Pitta Café, and helped survey and record the conservation work taking place. He also met Robin Winkler, a lawyer and founder of the Wild at Heart Legal Defense Association, in 2005. Wild at Heart, as Wilkie describes it, was really leading the alliance working to stop the dam. Wilkie helped the group record what was happening in Huben and Yunlin, and raised awareness of the issue via his role as super moderator of the popular birding discussion forum Bird Forum.
According to Wilkie, the alliance did letter-writing campaigns, petitions, international exchanges with other NGOs, and meetings at Taiwan's legislature. They even helped host a concert to raise awareness about the dam and its effects. Via Bird Forum, Wilkie convinced people to come to Huben to see the local habitat, learn about pitta conservation, and support the local community fighting the dam. As he put it, "These efforts seemed to be having an effect and mobilized the conservation community and young people. We really thought that [the dam construction] could be halted."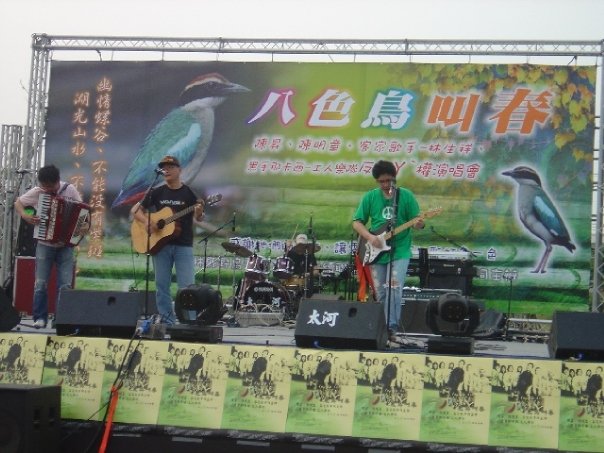 The Save the Fairy Pitta Fair and Concert was held outside Yunlin University of Science and Technology April 8, 2006. A petition drive took place the same day. (Credit: Mark Wilkie)
He added, "There were many things that people were upset about regarding the dam project, from what they considered to be a faulty Environmental Impact Assessment process, to the local geology which didn't seem correct for the dam, to the possibility that the water wasn't going to the locals but to two proposed major construction projects for Yunlin's offshore business." Those two projects were run by Formosa Plastics, which wanted to build a steelworks, and the China Petroleum Corporation, which was looking to build a petrochemical science and technology park. Both were planned for being built on Yunlin's coast and would require massive amounts of water. "So we tied the pitta conservation to humpback dolphin conservation, which was also extremely threatened by such projects."
Meanwhile, in November 2004, BirdLife International's Asia Council held its Council Meeting in Taipei, at which members expressed concern about the proposed dam project at Hushan (14). Later, then CEO of BirdLife International Dr. Mike Rands sent a letter to President Chen Shui-bian, noting that that the forests within the Huben-Hushan IBA supported what was then the largest-known breeding population of Fairy Pittas anywhere in the world. This made protection of the habitat globally important and of major concern to international NGOs (14).
Two years later, in June 2006, BirdLife sent Jonathan Eames, International Programme Manager for Indochina, and Richard Grimmett, Birdlife Asia Division Head, to participate in the first International Fairy Pitta Symposium hosted by the National Coalition Against the Hushan Dam (15). Grimmett spoke at the meeting about the need for a coordinated effort by organizations across the Fairy Pitta's range in Japan, Taiwan, Malaysia, and Borneo to work together to protect the bird's habitat.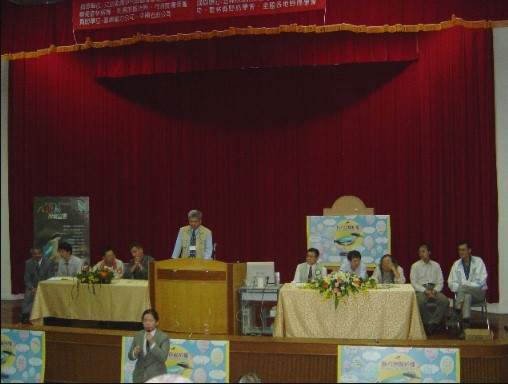 Taiwan's first International Fairy Pitta Symposium hosted by the National Coalition Against the Hushan Dam, 2006. (Credit: Mark Wilkie)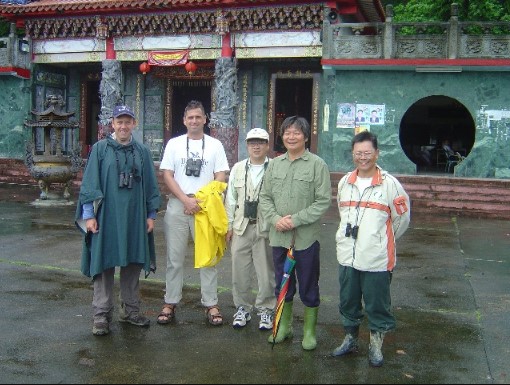 Richard Grimmett, Birdlife Asia Division Head (far left) Jonathan Eames, International Programme Manager for Indochina (next on right) and current TWBF president Dr. Woei-Horng Fang (far right) search for Fairy Pitta after International Fairy Pitta Symposium, 2006. (Credit: Mark Wilkie)
Meanwhile, Lin was still conducting population surveys, but now as a PhD candidate focusing on the species. While continuing an annual count at Huben, and with the Fairy Pitta Café as his base of operations, he did another island-wide study in 2005. The method changed only a little. As he put it, "I did not use the volunteers anymore. At the beginning, I thought I had 4 weeks [for the survey], but I found that to be too long. So I reduced it to three weeks. This is such a short timeframe for volunteers. So in the end I applied for funding to hire 30-40 people, and they'd spend a couple of days on the surveys."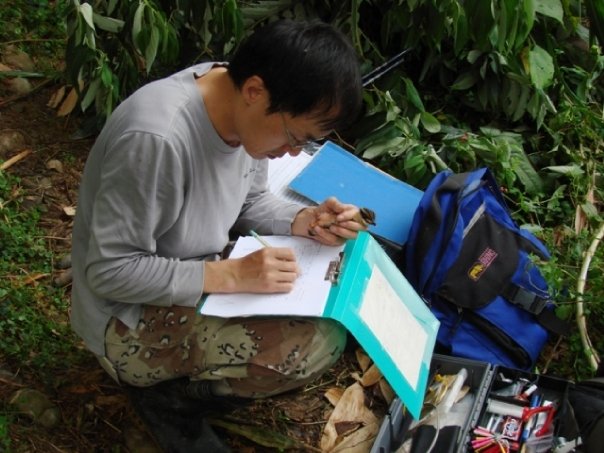 Scott Lin taking measurements of Fairy Pitta fledgling, 2007. (Credit: Mark Wilkie)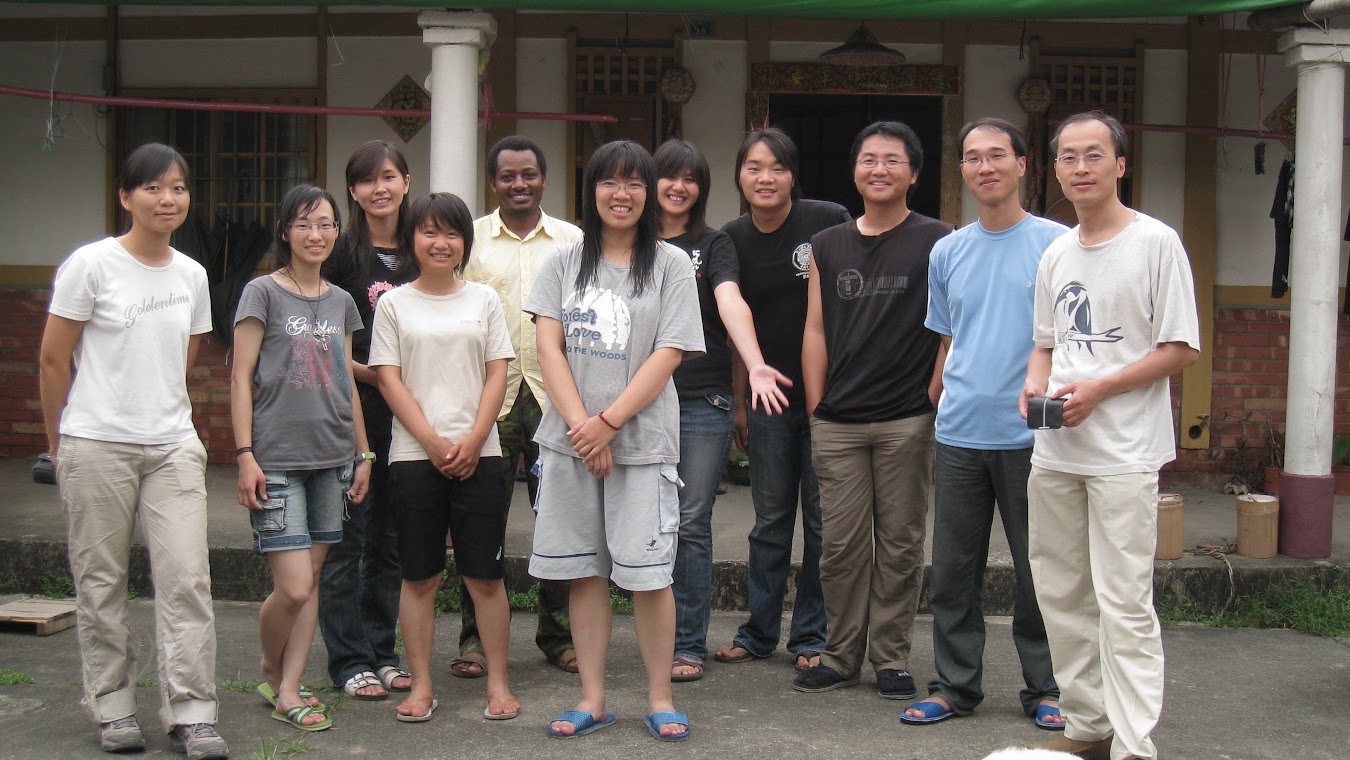 Scott Lin, research assistants, and colleagues who helped him with the Fairy Pitta research, 2008. (Credit: Scott Lin) 
In 2007, everything changed when construction on the dam officially began. Wilkie recalls, "In early 2007, things weren't really passed yet, and then [the Taisei Company] just went in and walled off the area. A few months later, in June, they finally let us go in, and it was presented as a fait accompli. Everything was cleared. There were also smaller projects going on where they were concreting streams in Huben. I actually have some photos of this pitta fledging on the tracks of a grader."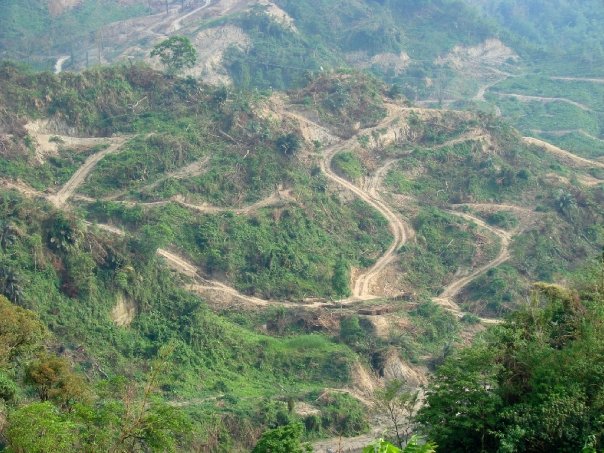 Clearing land for the Huben Reservoir, 2007. (Credit: Mark Wilkie)
Yet even with construction beginning, conservation efforts didn't stop. In August 2007, the Taiwan Wild Bird Federation, with the support of government agencies and industry, hosted the 2007 International Symposium for Fairy Pitta. Speakers representing Korea, Thailand, Indonesia and Taiwan came together to discuss pitta conservation, and at the end of the symposium, a call was made for future collaboration and efforts for regional cooperation in pitta conservation. One of the speakers, Dr. Eu-mi Kim of Korea, later invited Lin and Wilkie to take part in the Jeju Wildlife Research Center Workshop held in February 2008. Lin presented on current research and conservation goals for the Fairy Pitta in Taiwan while Wilkie discussed the Hushan dam threat (16).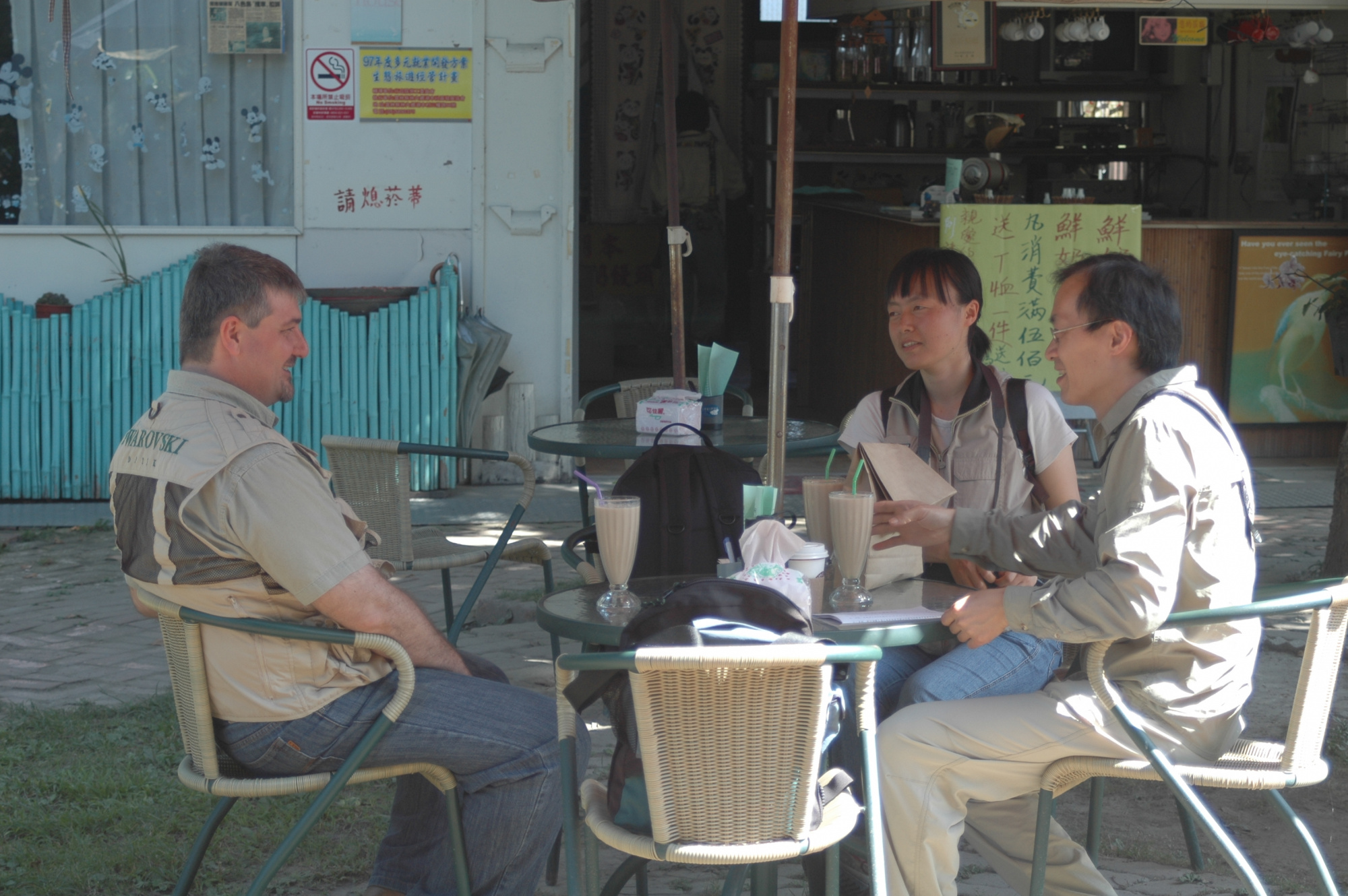 Scott Lin (right), Dr. Eu-mi Kim (center), and Mark Wilkie (left) talk together at the Fairy Pitta Cafe, 2008. (Credit: Mark Wilkie)
Lin was also invited to Kochi, Japan to present on Taiwan's pitta research and learn about what was being done by Japanese researchers. His research by now included not just population dynamics and survey techniques, but also diet and breeding area preferences for Fairy Pittas, some of the earliest works in the region on these topics. The most important finding, though, was still the discovery of the effectiveness of the playback approach. "I know several research projects about the Fairy Pitta now where they use the playback as well, like in Korea and China. They'll also use it for some other pitta species too."
One major mystery which remained was that of the Fairy Pitta's wintering grounds, which were long assumed to be Borneo. In 2007, a sighting at the Matang Wildlife Center in Sarawak, Borneo, led Lin to take a trip there in April 2008. However, no Fairy Pittas were seen or heard on the trip (17).
In 2009, Lin finished his PhD and again conducted another island-wide survey. The method was changed one last time. As he explained, "From 2009, the purpose was to get more information from more locations. After the surveys in 2001, 2002, and 2005, I already had enough data to understand the situation of the distribution around Taiwan. So, I shifted the focus to building a systematic monitoring method for the Fairy Pitta. This method stabilized the locations, and is still used today for the island-wide survey which takes place every 4 years."
Looking at the results of the 2009 survey, something struck Lin as odd. "My assumption was that after dam construction began, the Fairy Pitta would lose some habitat and need to try and find new territory around the area. I figured there would be a short period of time where that number would increase in Huben, as it is just a few kilometers from the dam site. But it was the opposite. Numbers went down at Huben too. I spent a lot of time thinking about this. Looking at the 2009 data compared to 2005, I started thinking that maybe the phenomenon we were experiencing around the Hushan Dam wasn't just a random occurrence, but perhaps something taking place around all of Taiwan. Maybe there was something else going on here."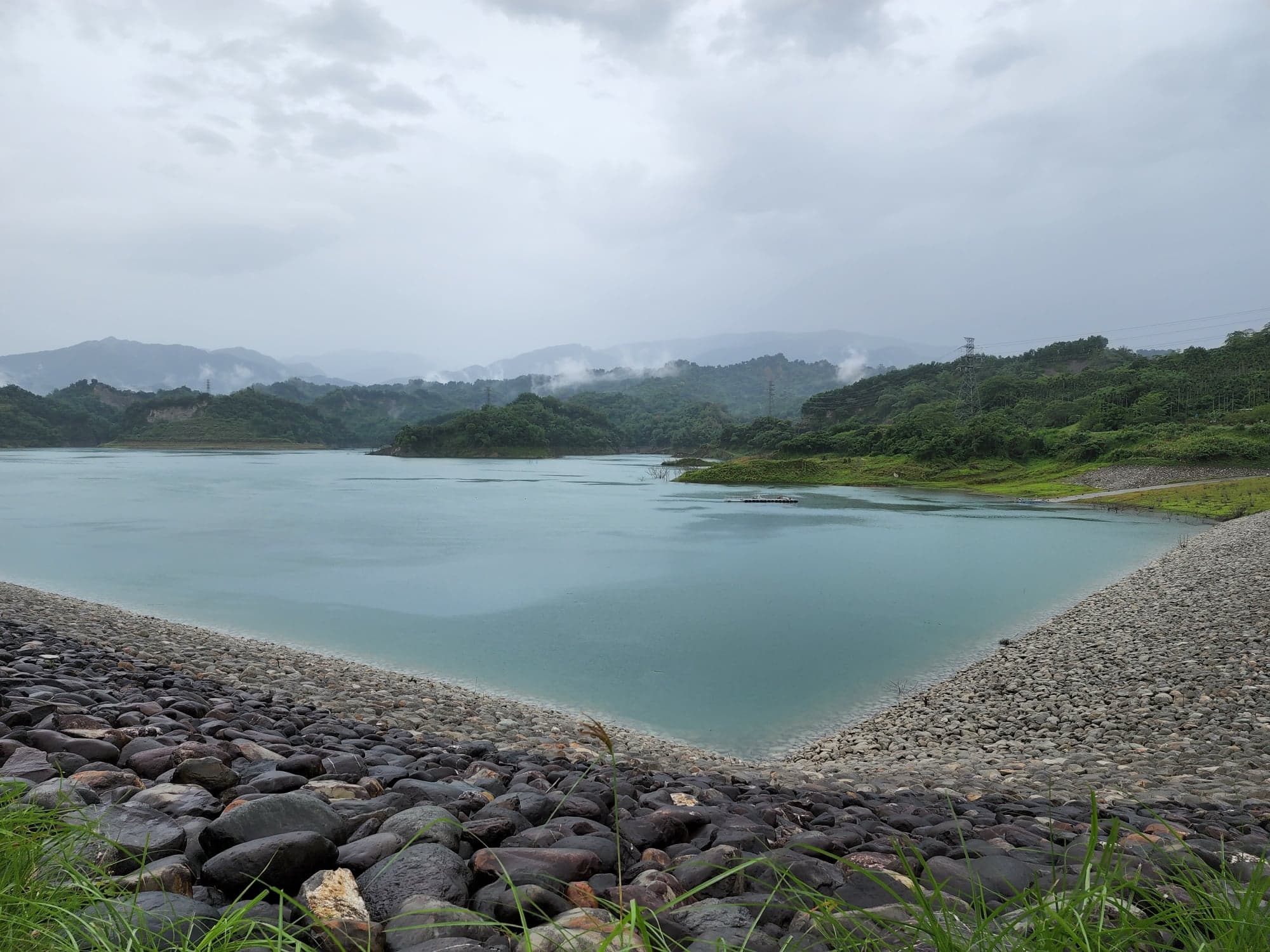 The Huben Reservoir, 2022. (Credit: TWBF)
The dam construction continued. As Wilkie put it, "The period from 2005 to 2010 was really wild; we fought so hard. But really, after the removal of the forest in 2007, we were still able to make some noise, but there wasn't much left to save." In the end, the dam was finished in 2014 and the sluice gate closed in 2016. In total, 422 hectares of Fairy Pitta habitat was lost. As Lin had predicted, Fairy Pitta numbers in the area decreased dramatically. From 222 counted in 2004, only 37 were counted in 2014 (7). However, as he had initially thought, the problem seemed to go beyond Taiwan.
Part Two will discuss efforts to understand Fairy Pitta numbers, distribution, and the effects of research and conservation work already done in Taiwan.
*Cover Photo Fairy Pitta (Credit: TWBF)
References:
(1) Temminck CJ, H Schlegel. 1850. Fairy Pitta Pitta nympha. Siebold's Fauna Japonica, Aves, Pt. 5. p. 135, Suppl. pl. A.
(2) Swinhoe R. 1864. Descriptions of four new Species of Formosan Birds; with further Notes on the Ornithology of the Island. Ibis, 6(3), 361-370.
(3) Hachisuka M, T Udegawa. 1951. Contributions to the Ornithology of Formosa. Part II. Quarterly Journal of the Taiwan Museum, 4, 1-180.
(4) Severinghaus LL, TS Ding, WH Fang, WH Lin, MC Tsai, CW Yen. 2017. The Avifauna of Taiwan. Vol. 2. Forestry Bureau, Council of Agriculture, Taipei, Taiwan.
(5) Severinghaus LL, CT Liang, SR Severinghaus, LC Lo. 1991. The distribution, status and breeding of Fairy Pitta (Pitta nympha) in Taiwan. Bulletin of the Institute of Zoology Academia Sinica, 30, 41–47. 
(6) Tang SY, CP Tang. 2004. Local governance and environmental conservation: gravel politics and the preservation of an endangered bird species in Taiwan. Environment and Planning A, 36(1), 173-189.
(7) Taiwan Wild Bird Federation. 2015. IBA TW017-Huben, Yunlin County. Important Bird Areas in Taiwan Second Edition, 78-80.
(8) Keck F. 2015. Sentinels for the environment. Birdwatchers in Taiwan and Hong Kong. China Perspectives. Retrieved 6/10/2022.
https://journals.openedition.org/chinaperspectives/6723
(9) Chiu YT. 2000. 'Eight-color bird' Sparks New Environmental Row. Taipei Times. Retrieved 6/10/2022.
http://www.taipeitimes.com/News/local/archives/2000/07/05/42567
(10) Lin RS, PF Lee, TS Ding, YTK Lin. 2007. Effectiveness of playbacks in censusing the Fairy Pitta (Pitta nympha) during the breeding season in Taiwan. Zoological Studies, 46(2) 242-248.
(11) The Society for Wildlife and Nature. 2005. Playback Method Improves Effectiveness of Fairy Pitta Surveys, International Conservation Newsletter, 13(1).
http://www.swan.org.tw/downloadfiles/newsletter/2005_03.pdf
(12) Taiwan National Coalition Against the Hushan Dam. 2007. The Hushan Dam Project, Wild at Heart Legal Defense Association. Retrieved 6/10/2022.
http://antihushandam.blogspot.com/2007/04/hushan-dam-project.html 
(13) Taiwan National Coalition Against the Hushan Dam. 2007. National Coalition Against the Hushan Dam, Wild at Heart Legal Defense Association. Retrieved 6/10/2022.
http://antihushandam.blogspot.com/2007/04/taiwan-national-coaliton-again...
(14) Taiwan National Coalition Against the Hushan Dam. 2007. BirdLife Letter to Taiwan President, Wild at Heart Legal Defense Association. Retrieved 6/10/2022. 
http://antihushandam.blogspot.com/2007/04/birdlife-letter-to-taiwan-pres...
(15) Wilkie M. 2006. My Local Patch is a Temple with Fairies- Huben, Taiwan, Retrieved 6/10/2022. 
https://www.birdforum.net/threads/my-local-patch-is-a-temple-with-fairie...
(16) Taiwan National Coalition Against the Hushan Dam. 2007. Hushan's Fairy Pittas at the Jeju Wildlife Research Center Workshop in South Korea, Wild at Heart Legal Defense Association. Retrieved 6/10/2022. 
http://antihushandam.blogspot.com/2008/03/jeju-wildlife-center-workshop-...
(17) Taiwan National Coalition Against the Hushan Dam. 2007. Fairy Pitta Wintering Area Mystery Continues, Wild at Heart Legal Defense Association. Retrieved 6/10/2022.
http://antihushandam.blogspot.com/2008/04/fairy-pitta-wintering-area-mys...